Special withe water spring / autumn offer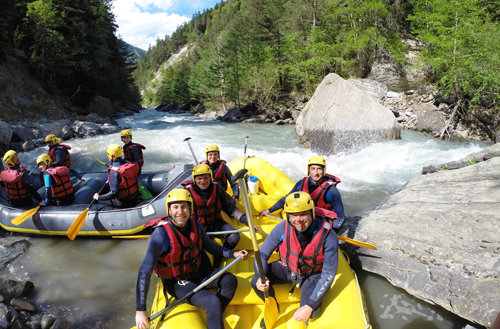 Special withe water from 75 €
1/2 day Rafting on the most beautiful courses of the Ubaye, 1 day Rafting, canoeing / kaya-rafting or swimming on the Ubaye, rafting Trilogy 2 days Rafting or itinerant rafting Raft + Canyon, it's up to you to choose your formula.
Discover all the datasheets and details of the services.
We are at your disposal to concoct together a program à la carte.
White water formulas full day or weekend
Download datasheets to discover all the details of the service. Programs are indicative, we are at your disposal to whip together a program map.
Price "package / raft" is applicable from a full crew of 6 people.
Prestation

Parcours

The datasheet

Duration

Prices

Magnifique Ubaye
A half day rafting
After having welcomed you and familiarised yourselves with the equipment and necessary techniques, we will commence our journey by descending through the Rio-Clar (class II-III) followed by "Ex-infrans de la Fresquiere" (classe IV-V)
leading up to the fabulous gorges of the Martinet-Lauzet ( class III-IV).
3h30
85 € / pers
Forfait 6 pers :
480 €
100% Rafting
A full day rafting,
Ubaye and Bachelard
The program "Magnifique Ubaye" in raft in the morning
+ Afternoon rafting on the Bachelard,
Torrent which flows at the bottom of a splendid gorge of the Park of Mercantour.
3h + 2h30
110 € / pers
ou
600 € / 6 pers
Ubaye multiple
A whitewater multi-activity day
The "Ubaye multiple" program in raft in the morning
+ Afternoon canoeing / kaya-raft or whitewater swimming
On the courses of Haute-Ubaye
3h + 2h30
110 € / pers
Forfait 6 pers :
600 €
Raft Trilogie
2 days Itinerant navigation
in raft.
Itinerant navigation in raft on three rivers the Ubaye, the Bachelard
And depending on the water level: Le Guil (Queyras) or Haut Var (Gorges de Daluis).
2 x 5h30
160 € / pers
Forfait 6 pers :
900 €
Family Aventure
Day or half day
Rafting, kayak / canoraft, Stand Up Paddle with parents and children (from 8 years) with picnic (not included). Embark and taste in the river on the Ubaye or the Durance
5h ou 3h
Forfait 8 pers :
1/2 j. : 380 €
1 journée :
600 €
Raft + Canyon
2 days
2 days to discover white water sports!
1 day rafting + 1 day canyoning
5h30 + 4h30
142 € / pers.
Forfait 6 pers :
810 €
White water and Canyon
2 days
The "Ubaye multiple" program in raft in the morning + afternoon canoeing / kaya-raft or swimming in white water on the courses of the Upper Ubaye and 1 day of canyoning
5h30 + 4h30
150 € / pers.
6 pers :
858 €